What's JCRE
1.Organization Name
Corporate, Non-Profit Organization
Japan Council for Renewable Energy (JCRE)
2.Greeting by President
Japan Council for Renewable Energy (JCRE) was established to promote renewable energy R&D and deployment under collaboration with AIST (National Institute of Advanced Industrial Science and Technology), NEDO (New Energy and Industrial Technology Development Organization), NEF (New Energy Foundation) and strong support by METI (Ministry of Economy, Trade and Industry), in June, 2007, after the International Conference and Exhibition "Renewable Energy 2006" was held for the first time in Japan. It restarted as a non-profit organization in January, 2016.
JCRE covers not only individual technical fields but also policy, new concept, architecture, hydrogen, energy network etc. to provide total view of renewable energy integration to society. Since 2006, 4 international conferences (every four years, the latest one was in June, 2018 in Yokohama) and 13 international exhibitions and forums (every year) have been held to show and share latest technology and future of renewable energy.
Although deployment of renewable energy has spread rapidly and widely, to overcome fossil fuel limitation and global warming, still various supports are necessary to sustain. And limitations of traditional energy infrastructures have also become evident. To further promote renewable energy, well-designed policy and new technologies for large scale storage&transport, smart control and grid connection etc. are needed, and sharing these new knowledge is essential to accelerate renewable energy deployment.
We will continuously contribute to acceleration of renewable energy integration to society by holding regular international conferences and exhibitions under collaboration with experts of academic societies, industries, international institutes and governments.
3.Progress of Activities
October 2006

Covering all RE areas, the 1st international conference as Japan, naming Renewable Energy 2006 International Conference (RE2006), was successfully implemented by contribution of major organizer, JCRE.
It was held on October 9-13, 2006 in Makuhari Messe.

June, 2007

Establishment of Japan Council for Renewable Energy
With the solid statement of activity continuation for RE promotion, it was newly organized involving NEDO, AIST, NEF of socio-governmental organizations onto RE2006 Organizing Committee major members.

January, 2016:

The organization of JCRE was shifted to Corporate, Non-Profit Organization. The date is January 20, 2016 authorized from Bureau of Legal Affairs.
4.Foundation Date
June 8, 2007
Japan Council for Renewable Energy (JCRE)
January 20, 2016
Corporate, Non-Profit Organization
Japan Council for Renewable Energy
5.Organization Objectives and Activity Areas
• Objectives

This Organization plays activities of technology research and development on Renewable Energy through the international forum, exhibition, and International Conference, resulting in the contribution to the sustainable global environment besides the energy policy establishment.

• Activity Areas

1)Planning and Promotion of World Exhibition covering whole renewable energy areas
2)Organizing for International Forum covering whole renewable energy areas
3)Co-Organizing for International Conference covering whole renewable energy areas
4)Activities required to achieve Objectives other than the items written above
6.Organization
[Corporate NPO, Japan Council for Renewable Energy]
[Historical General Chairman of Renewable Energy International Cobference]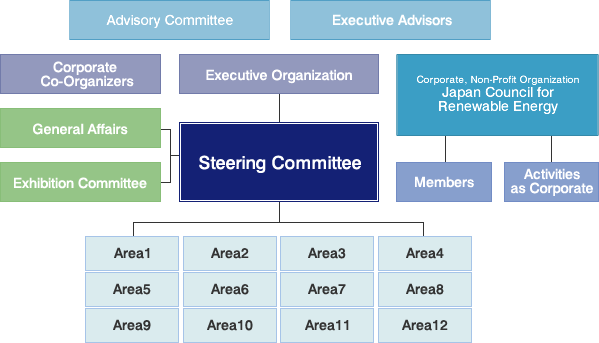 7.Rule of Sum, and Activity Procedures
8.Logo Mark in subject
JCRE
The 12 Areas