What's JCRE
1.Organization Name
Corporate, Non-Profit Organization
Japan Council for Renewable Energy (JCRE)
2.Greeting by Representatives
We sincerely express thanks given to our activities with great support and cooperation.
The first international conference, Renewable Energy 2006, was implemented for October 9 to 13, 2006 in Makuhari Messe, which was the first one in Japan focusing renewable energy, where, The Makuhari Communique with slogan, "Advanced Technology Paths to Global Sustainability", was adopted as closing message in the final day of the conference. Under the strong mind of continuation of this honorable conference not to be ended one time, we proposed it, resulting in the support from METI and the new organization of Japan Council for Renewable Energy (JCRE) built on June 8, 2007 with the organizational support of National Institute of Advanced Science and Technology (AIST), New Energy and Industrial Technology Development Organization(NEDO), and New Energy Foundation(NEF).
We specified the activities like the international conference every four year, the world exhibition every year, and the international forum every year except for the year of international conference. Through such continuous activities, we believe to be able to contribute to the word, Renewable Energy, to be common.
Our activity must be sustainable as same as renewable energy. Considering the time is well-suited, we decided to obtain the corporate qualification and have received the certification of Non-Profit Organization on January 20, 2016. In this opportunity, we will do the activities having two wings in foreseeing the future.
One is continuation of activities so far such as every year exhibition and international forum, and the international conference every four years. We will make them more fruitful than before through the internal and external network among the specialists belonging to each area, cooperation with international academic societies, international agencies, and assented industrial leagues, and the functional connection with academic societies, national institutes, general and public corporate organizations.
Another is to actuate the membership activities by those applicable to our organization. We are expecting the members gathering those having the interest on renewable energy deployment and the special intelligence on this area. We will formulate the new fellow ring of routine activities so as to disseminate renewable energy.
The speed of recent movements toward low carbon society, green and clean societies is so fast. That might be similar to the just time before the energy revolution. Looking at area by area, we can find out easily to integrate the characteristic renewable energies and best mix idea. This concrete process will contribute to realize the optimization of demand-supply integrated energy network in local area by area, using the featured renewable energy resources. In other word, "Renewable Energy Ensemble" becomes possible. Japan Council for Renewable Energy now re-started, as I strongly intend, will contribute founding the great stage for Ensemble to be able to play it with concentration and competitiveness using technology.
It is great pleasure if we take any advice and encouragement from all persons related as same as hitherto.
3.Progress of Activities
October 2006

Covering all RE areas, the 1st international conference as Japan, naming Renewable Energy 2006 International Conference (RE2006), was successfully implemented by contribution of major organizer, JCRE.
It was held on October 9-13, 2006 in Makuhari Messe.

June, 2007

Establishment of Japan Council for Renewable Energy
With the solid statement of activity continuation for RE promotion, it was newly organized involving NEDO, AIST, NEF of socio-governmental organizations onto RE2006 Organizing Committee major members.
4.Foundation Date
June 8, 2007
Japan Council for Renewable Energy (JCRE)
January 20, 2016
Corporate, Non-Profit Organization
Japan Council for Renewable Energy
5.Organization Objectives and Activity Areas
• Objectives

This Organization plays activities of technology research and development on Renewable Energy through the international forum, exhibition, and International Conference, resulting in the contribution to the sustainable global environment besides the energy policy establishment.

• Activity Areas

1)Planning and Promotion of World Exhibition covering whole renewable energy areas
2)Organizing The International Forum covering whole renewable energy areas
3)Co-Organizing The International Conference covering whole renewable energy areas
4)Activities required to achieve Objectives other than the items written above
6.Organization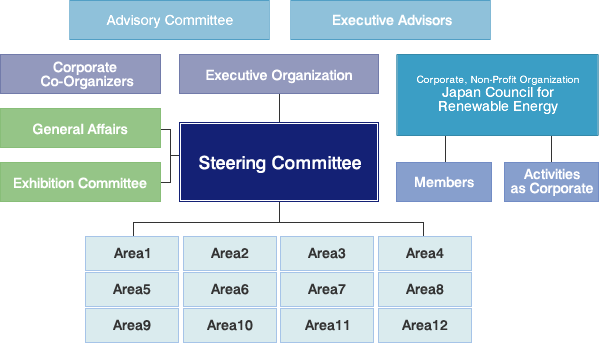 7.Rule of Sum, and Activity Procedures
8.Logo Mark in subject
JCRE
The 12 Areas