RENEWABLE ENERGY 2015 EXHIBITION
| | |
| --- | --- |
| Show Title: | RENEWABLE ENERGY 2015 EXHIBITION |
| Dates: | July 29 (Wed) - 31 (Fri), 2015 10:00 - 17:00 |
| Venue: | TOKYO BIG SIGHT West Hole |
| Admission Fee: | Free of charge |
| Organized by: | Japan Council for Renewable Energy |
Renewable Energy World Fair 2014 Visitor Count
Date
Weather
Number of visitors
July 30 (Wed)
Fair
13,396
July 31 (Thu)
Fair
13,557
August 1 (Fri)
Fair
15,210
July 28(Mon)- August 1(Fri)
GRAND RENEWABLE ENERGY 2014
INTERNATIONAL CONFERENCE
2,047
Number of Exhibitors: 300 companies and organizations

An exhibition of all of the various fields related to renewable energy!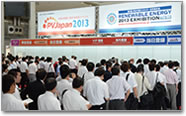 The ninth annual exhibition will feature introductions to the latest products, technologies, services, and information related to Energy and Environment, including all of the latest in the new and renewable energy fields.
The aim of this exhibition is to contribute to the promotion of business, spread information related to Energy and Environment, and encourage the transition to a new sustainable society by creating an opportunity for exhibitors involved in a wide variety of fields to communicate with visitors.
This year the event will be held collaborating with the
Grand Renewable Energy 2014 International Conference at Tokyo Big Sight.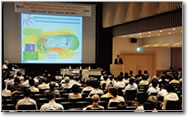 This will be the third conference in Japan since the first Renewable Energy International Conference and Exhibition was held here in 2006, and many researchers and engineers are expected to participate.
The event will be held concurrently with PVJapan (an exhibition specializing on the global solar-photovoltaic industry), and various other events related to Energy and Environment will also be held at Tokyo Big Sight during the same week.
Event Summary
Show Title :
GRAND RENEWABLE ENERGY 2014 INTERNATIONAL EXHIBITION
Dates :
July 30 (Wed) - August 1 (Fri), 2014 10:00 - 17:00
Venue :
Tokyo Big Sight
Admission Fee :
Free of charge
Organized by :
Co-organized by :
(tentative)
Supporting :
Organization
Collaborated with :
Fuji Sankei Business i

Japan Council for Renewable Energy (JCRE)
With the mission of enhancing public awareness of twelve fields of renewable energy and new energy, developing technology, and promoting activities that are useful for the development of the industry, the Japan Council for Renewable Energy (JCRE, representative: Kosuke Kurokawa) was established based on the organizational structure of the Renewable Energy 2006 Organizing Committee, on June 8, 2007.
Exhibition Categories
Products, technologies, services, peripherals and information that contribute to conservation of the global environment and biodiversity are welcome in all fields of energy and the environment.











Use of temperature differences
Cogeneration
Clean automobiles
Energy reduction
Superconductivity
IT Communication
Use of snow / ice heat
Test Equipment and Apparatus: Environment conservation measurements, determinations,analyses
Environmental finance-related products and support systems
NPO and NGO
Others